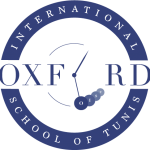 Welcome to Oxford International School of Tunis (OIST). Whether you are a prospective pupil or parent, a current community member, a possible employee, or simply interested in our school, it is our pleasure to welcome you to OIST.
As demands and complexities of teaching children increase, it becomes more evident that we need to work together in an extended family environment to ensure that all our pupils reach their full potential and head towards the core values of OIST: Originality, Integrity, Success and Tolerance.
At OIST, we strongly believe that it's all parties' responsibility to empower our pupils with creative, intellectual, decision-making and problem-solving skills necessary for them to excel academically, socially, physically and emotionally.
While academic excellence is our focus, we strive to integrate the Arts, Humanities, Technology, Language learning, and Athletics into our experience. We also offer personalized education to better prepare pupils for their future higher education and careers.
As part of the Parent-Teacher Organization, our parents play a vital role in our community by being actively involved in most aspects of school life. Our staff members are among the most dedicated educators who are committed to innovative teaching through pupil-centered instruction and project-based learning that draws on real-life experience.
Extra-curricular activities are a significant part of our school life. From robotics to swimming, football to debating, horse riding to basketball: we try to offer students opportunities to enrich and enhance their education. We also work hard to provide opportunities for our pupils to get as engaged and involved as possible in serving the community.
Our school also has all the innovative support; with computer room, a computer and multimedia projector in each classroom required for learning in the 21st century. We also have a science lab and in terms of sporting facilities we have a basketball court and a gym room. 
Sincerely,
School Management Team